Modern Farmhouse Windows
June 7, 2022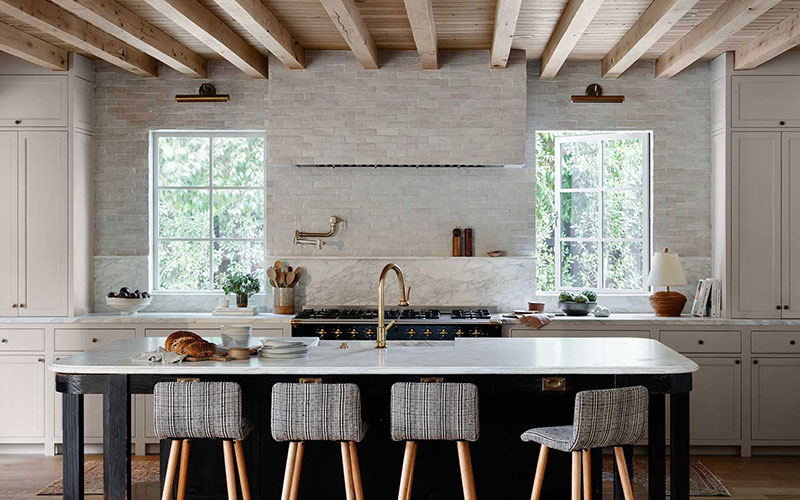 The modern farmhouse aesthetic remains one of today's popular design choices. But what is it, exactly? And if you choose this look for your home, how can you make sure your windows go with the overall modern farmhouse design?
The modern farmhouse style is equal parts elegance and everyday utility. Walk into a modern farmhouse and you'll experience an effortless 'lived-in' vibe with contemporary features and striking materials all around you. So, how do you achieve a modern farmhouse look for your own home, and when it comes to the windows that fill that space with light, which types of windows complete the modern farmhouse aesthetic?
Here are three tips for turning your home into a modern farmhouse paradise:
 

Establish The  Aesthetic:

Harkening back to an era when life was less complicated, modern farmhouse style is, at its core, pure and simple. It uses natural elements in its design, common areas in its architecture and above all, blends the outside with the inside thanks to its generous use of windows. Vertical elements like standing seam roofs and cedar siding evoke vintage barn structures while the use of contemporary materials elevates the overall look.





Modern farmhouses can have white, natural wood or chalky stone exteriors. They can be one structure, or several small and detached ones linked by breezeways or long sun-filled hallways. A key tenet is to present the architecture as asymmetrical, making the home appear to be composed of various pieces. The center of the home is often a great open room, anchored by an unadorned hearth that acts to connect the kitchen to the living space.

Choose Your Windows:

According to Marco Vincent, Lead Architecture Consultant in the Marvin Design Lab, black interior

double hung windows

without simulated divided lites, or grids, are the most complementary selections for the farmhouse design. "Double hung windows can absolutely feel modern – counter to common opinions," he said. Additionally, windows can be white or a light natural wood clad style to allow the warmth of a wood interior with a low maintenance exterior.





Casement style windows

are also common and offer a pleasing view to the outside with the benefits of a larger opening that provides cross ventilation. But whatever style or color is chosen, it is important to adhere to symmetry. If grids are selected, beveled or ogee edges are discouraged. "Grids should be in a square profile with a clean cut," Vincent said.

Know Your Design Elements:

Rustic, natural, warm and uncomplicated describe today's successful modern and industrial farmhouse style. Although both are born of the same concept, the modern farmhouse is "a little cleaner looking with whites and exposed woods," Vincent said. Industrial farmhouses raise the bar and harken back to the Industrial Revolution with a "glass and steel vibe," he added.





Currently, black windows and hardware are the most popular choice for builders and homeowners, but gunmetal finishes are on the rise. Wood flooring is often used but it needs to look as if it has been there a long time to give it a settled-in appearance.





Natural tones like ivory and cream are preferred for farmhouse décor. To bring interest to the interior, designers will often add texture. The subtle use of boucle, faux fur and sisal rugs add interest to this soft palette. If color is added, it is in the Scandinavian hues of sky blue and grayish green.
For more information about the unique modern farmhouse windows from Sahr Building Supply, please contact us here or call us directly at 616.288.2001.